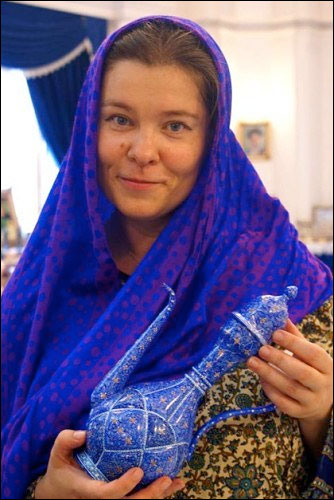 Ukrainian journalist Anhar Kochneva.
Talk about real terrorism. The CIA's mercenaries in Syria are threatening to kill a Russian journalist unless a $50 million ransom is met by December 13. Word of the deadline arrives as the Obama administration officially recognizes the Free Syrian Army (FSA) as a "legitimate representative" of the Syrian people.
Anhar Kochneva, a reporter with Russian and Ukrainian dual nationality, was kidnapped by the FSA in October outside the city of Homs. According to
Darya Mitina
, deputy chairman of the Committee of Solidarity with people of Libya and Syria, Kochneva received threats from FSA mercenaries numerous times in response to her pro-Assad position. She also criticized Western media for conducting a media war against the al-Assad regime and distorting the situation in Syria.
On November 28, a video surfaced showing the Ukrainian journalist. Kochneva said she had entered the country with fake credentials and acted as a Russian spy by translating exchanges between Syrian and Russian government forces, according to the
Committee to Protect Journalists
. The CPJ said Kochneva's confession was coerced.
The organization ranks Syria as the most dangerous place in the world for journalists. No less than 27 journalists have have been killed while covering the Syrian conflict since November.
Human rights organizations have accused the FSA of committing numerous abuses, including "kidnapping, detention, and torture of security force members, government supporters, and people identified as members of pro-government militias, called shabeeha,"
Human Rights Watch
reported in March.
Despite these human rights abuses, the Obama administration on Tuesday announced formal USZ recognition of the Syrian opposition coalition, calling it the legitimate representative of the Syrian people.
"We made a decision that the Syrian opposition coalition is now inclusive enough, is reflective and representative enough of the Syrian population," Obama said, according to the CIA propaganda outfit,
Voice of America
.
"Recognition is nice, but we need real support," said
Walid al-Bunni
, of the newly formed Syrian National Coalition, as a "Friends of Syria" conference began in the Moroccan city of Marrakech. The Syrian National Coalition is demanding military support for the
Al-CIA-Da mercenaries
fighting against the Syrian regime.
(InfoWars)
Pakistan Cyber Force